Sandy Dunes Still Creating Property Rights Disputes
Earlier this year, several oceanfront property owners in Toms River sued their homeowner's association and the municipality because they were precluded from building a "dune walkover."  The dunes are those that were funded after the devastation to the Jersey Shore caused by Hurricane Sandy in 2012.  The project was designed by the Army Corps of Engineers and the dunes were erected on private property between oceanfront residences and the mean high-water line. Normandy Beach Improvement Assn 2023 Inverse Complaint.  The homeowners' complaint has many counts, but the one we're interested in alleged that there was a taking of private property without just compensation.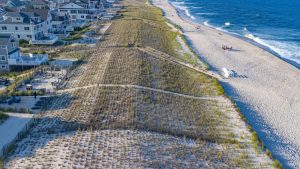 The owner's argument was that the refusal to permit walkovers from their private property to the recreational beach area was a taking of its property without payment of just compensation contrary to the Constitution.  They were constructed under a joint project between the Army Corps and the NJ Dep't of Environmental Protection.  Almost all of the dunes were constructed on private property by exercise of eminent domain to take an easement granting the State the right to construct, maintain, and replenish an 18-22′ high dune and berm system.  The above picture is an example of a completed dune and berm with sea grass and dune walkovers.  The DEP permitted dune walkovers.
The property owners' issue, in this case, is that their association – the Normandy Beach Improvement Association – denied that the owner had the right to construct dune walkovers to access the recreational beach area.  The dune property is owned by the Association and apparently, the individual owners who want to construct walkovers are in the minority because the Association would not permit the walkovers.  So, the individual owners sued.
The Shore Beat reported on Wednesday that Ocean County Assignment Judge Hodgson ruled that the owners had the right to construct walkways over the dunes.  Toms River had recently enacted an ordinance expressly permitting dune walkovers within the municipality.  Toms River's attorney was apparently concerned that it would be liable to pay the 28 affected homeowners just compensation for the taking of their property rights.  The Homeowner's Association intends to appeal Judge Hodgson's ruling.  It will be interesting to see if the municipality grants permits to construct walkovers while the appeal is pending.