Great 8, Number 4: Wilson – Municipal Redevelopment Sustained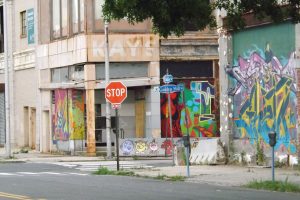 The above image apparently depicts a downtown urban blighted area in Connecticut.  (But, today's post will not be about the famous Little Pink House in Connecticut).
This post is about the judicial progenitor of redevelopment in New Jersey, Wilson v City of Long Branch (1957) (Francis, Assoc. Justice).  The case was the first to challenge the 'Blighted Areas' Clause of the 1947 Constitution, and the Blighted Areas Act adopted pursuant thereto. (Fun Fact – Long Branch native Clarkson S. Fisher argued for respondent decades before the Federal Courthouse would bear his name).  The people of the State recognized that government should be authorized to "redevelop" blighted areas:
"The clearance, replanning, development or redevelopment of blighted areas shall be a public purpose and public use, for which private property may be taken or acquired. Municipal, public or private corporations may be authorized by law to undertake such clearance, replanning, development or redevelopment; and improvements made for these purposes and uses, or for any of them, may be exempted from taxation, in whole or in part, for a limited period of time during which the profits of and dividends payable by any private corporation enjoying such tax exemption shall be limited by law." N.J. Constitution Art. VIII, Sec. 3, Par. 1.
Ten years later, Justice Francis' words aptly described the purpose of the provision:  "Community redevelopment is a modern facet of municipal government. Soundly planned redevelopment can make the difference between continued stagnation and decline and a resurgence of healthy growth.  It provides the means of removing the decadent effect of slums and blight on neighboring property values, of opening up new areas for residence and industry."
When you actually read these early opinions, it comes as no surprise that "local redevelopment" legislation was adopted in a majority of States, and sustained by the courts. The images of blight are shocking:
"Miserable and disreputable housing conditions may do more than spread disease and crime and immorality.  They may also suffocate the spirit by reducing the people who live there to the status of cattle.  They may indeed make living an almost insufferable burden.  They may also be an ugly sore, a blight on the community which robs it of charm, which makes it a place from which men turn.  The misery of housing may despoil a community as an open sewer may ruin a river."  Wilson (quoting Berman v. Parker, 348 U.S. 26 (1954)).
Wilson is a great case because it is well-researched; well-written; and because it sustained the constitutionality of the Blighted Areas Act.  The clearance of blight remains a vital and important facet of municipal government.   The concern is when the purpose of the "redevelopment" is to provide a connected redeveloper with a tax exemption for a "higher and better use".  I'll save that discussion for another day.