Property Owners Standing Strong Against Pipeline Companies
Just as President Trump moves to block Russia's expansion of its natural gas pipeline infrastructure, local property owners continue to stand their ground against pipeline companies.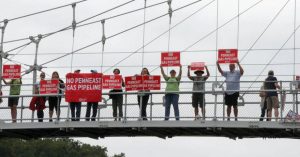 Several owners in Mercery County opposed the PennEast Pipeline project.   NextCity just published an article detailing an owner's years-long battle against PennEast.
Back in February 2018, PennEast had filed over 120 takings cases in the United States District Court for the District of N.J.  About a quarter of the cases named the State, Dep't of Environmental Protection as a party defendant because it was the beneficiary of conservation easements the State had purchased years prior to the takings.  Therefore, the State held an interest in the property to be acquired by PennEast.   Several property owners objected to the takings.  The State, DEP also objected to the takings on several grounds, including 11th Amendment immunity.  The District Court denied all objections.
The State, DEP appealed to the Third Circuit.
And they won; a significant blow against PennEast's project.  In September of 2019, the Third Circuit ruled that PennEast could not sue the State of New Jersey in federal court because of 11th Amendment immunity.  The cases naming the State as party-defendants have been dismissed since the Third Circuit vacated the District Court's Order.  PennEast has appealed that ruling, and its request for the U.S. Supreme Court to hear its appeal is pending.  Back in April of this year, the United States Supreme Court asked the State to reply to PennEast's petition for certiorari.
We all wait with bated breath for the Supreme Court's decision.