A CHANGE TO THE (SENIOR) FREEZE IS COMING!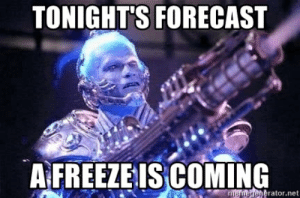 Changes may be on the horizon for the New Jersey's Senior Freeze program. The Senior Freeze program helps eligible New Jerseyans lower their property taxes by reimbursing property tax payments increases and "freezes" the property tax rate for eligible homeowners and mobile home park site fees. This is particularly helpful for senior residents living on a fixed income so they are not paying tax increases or site fees every year. When a resident applies for the program, a "base year" is created for eligibility and the program "freezes" the tax increases for subsequent years. The downside of the Freeze currently is that property owners must pay the full property tax first, including the increase, and later receive a rebate check. The introduced changes in Bill S1501 would convert the reimbursement program into a credit program so homeowners would realize the savings quicker.
Senator Jean Stanfield, one of the primary sponsors of the bill, stated "This small, but impactful modification to the program will dramatically simplify the entire reimbursement process so that seniors can receive their credit more efficiently." In 2020, 161,000 New Jersey residents were eligible for the Senior Freeze program, receiving an average amount of $1,192.
Bill S1501 was introduced in the Senate and referred to the Senate Community and Urban Affairs Community where the bill was unanimously approved. The bill must now be approved by the Senate Budget and Appropriations Committee. Under the new legislation, homeowners would pay their first two quarterly tax bills and then receive credits that lower their third and fourth quarter bills. If passed, the bill would take effect on the first day of the tax year following enactment. To review bill 1501 in full click here. Stay tuned for updates. To learn if you are eligible for the Freeze see below:
Requirements to be eligible for the Freeze include (see here for full list) the following:
Must be over 65 years of age OR receiving Social Security disability benefit payments
Have lived in New Jersey as either a home owner or renter since December 31, 2010
Total annual income is less than $94,178 (2021)
You are not eligible for reimbursement on:
A vacation home or second home
Property that is rented to someone else
Property consisting of more than four units
Property with less than four units that contains more than one commercial unit
Are completely exempt from paying property taxes on your home
Made PILOT payments to your municipality
Applications for the Senior Freeze generally are mailed out in February or March and if an application is not received, please contact the State at 1-800-882-6597. The United States Postal Service does not forward the application if you have moved. The deadline to file for the Senior Freeze is October 31, 2022.