Cedar Point Nursery – Per Se Taking Found by United States Supreme Court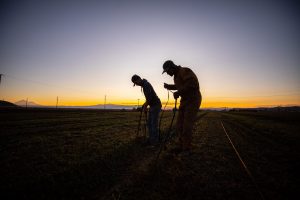 [Photo Credit – NY Times 6-23-21]
The US Supreme Court decided a takings case in favor of a property owner yesterday.  Cedar Point Nursery v. Hassid, ___ U.S. ___ (2021).  The Court found that there was a per se taking where governmental regulation permitted union organizers limited access to private farm property.    The full opinion is a worthwhile read and is here.  The holding would appear to represent a monumental shift in the Court's view of per se takings.  Before today, almost all "regulatory" takings claims were doomed to the morass of the confusing (and dare say ambiguous) multi-factored Penn Central Test. [438 U.S. 104].  The main reason for the holding was that the regulation took away the owner's "right to exclude."
"Cedar Point Nursery is a strawberry grower in northern California. It employs over 400 seasonal workers and around 100 full-time workers, none of whom live on the property. According to the complaint, in October 2015, at five o'clock one morning, members of the United Farm Workers entered Cedar Point's property without prior notice. The organizers moved to the nursery's trim shed, where hundreds of workers were preparing strawberry plants. Calling through bullhorns, the organizers disturbed operations, causing some workers to join the organizers in a protest and others to leave the work site altogether. Cedar Point filed a charge against the union for taking access without giving notice. The union responded with a charge of its own, alleging that Cedar Point had committed an unfair labor practice."  Fearing that the Union would re-enter the property, Cedar Point and other growers filed for injunctive relief in the District Court.  They were denied relief in the District Court and on appeal to the Ninth Circuit Court of Appeal.
The Supreme Court took the case to decide "whether the access regulation constitutes a per se physical taking under the Fifth and Fourteenth Amendments."  Chief Justice Roberts wrote the majority opinion and summarized physical takings jurisprudence as follows:
"When the government physically acquires private property for a public use, the Takings Clause imposes a clear and categorical obligation to provide the owner with just compensation. Tahoe-Sierra Preservation Council, Inc. v. Tahoe Regional Planning Agency, 535 U. S. 302, 321 (2002). The Court's physical takings jurisprudence is "as old as the Republic." Id., at 322. The government commits a physical taking when it uses its power of eminent domain to formally condemn property. []  The same is true when the government physically takes possession of property without acquiring title to it. See United States v. Pewee Coal Co., 341 U. S. 114, 115–117 (1951) (plurality opinion). And the government likewise effects a physical taking when it occupies property—say, by recurring flooding as a result of building a dam. See United States v. Cress, 243 U. S. 316, 327–328 (1917). These sorts of physical appropriations constitute the "clearest sort of taking," Palazzolo v. Rhode Island, 533 U. S. 606, 617 (2001), and we assess them using a simple, per se rule: The government must pay for what it takes."
The opinion continued by recognizing that takings jurisprudence was limited to physical takings prior to Justice Holmes now-famous pronouncement that "property may be regulated to a certain extent, [but] if regulation goes too far it will be recognized as a taking." (Pennsylvania Coal v. Mahon, 260 U.S. 393 (1922)).   Takings cases thereafter became one of two different varieties, physical takings or regulatory takings.  The latter category being subject to the confusing and vague test set forth in Penn Central and cases decided thereunder.  The Court appears to have recognized the quagmire created by Penn Central – "Our cases have often described use restrictions that go "too far" as "regulatory takings."  But that label can mislead. Government action that physically appropriates property is no less a physical taking because it arises from a regulation."  The Court then expressed perhaps its clearest statement to date on the regulatory/physical takings dichotomy:  "Whenever a regulation results in a physical appropriation of property, a per se taking has occurred, and Penn Central has no place."
The Court went on to underscore the importance of a property owner's "right to exclude" and thereby amplified its rationale for ruling in favor of the property owners.
And in sum,  "the upshot of this line of precedent is that government authorized invasions of property—whether by plane, boat, cable, or beachcomber—are physical takings requiring just compensation. As in those cases, the government here has appropriated a right of access to the growers' property, allowing union organizers to traverse it at will for three hours a day, 120 days a year. The regulation appropriates a right to physically invade the growers' property—to literally "take access," as the regulation provides. Cal. Code Regs., tit. 8, §20900(e)(1)(C). It is therefore a per se physical taking under our precedents. Accordingly, the growers' complaint states a claim for an uncompensated taking in violation of the Fifth and Fourteenth Amendments."
That's the quick down and dirty.  I am sure that this case is going to generate lots of digital commentaries – so stay tuned!